The "Fishing & Life" wiki!
Edit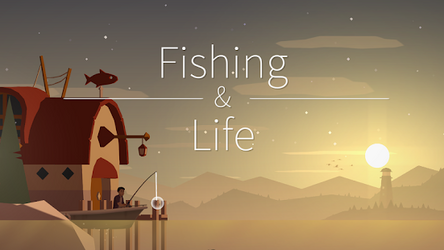 Welcome to the Fishing & life wiki, so far, a small one-man wiki encyclopedia about
Fishing life
(Hello all, I'm going to be busy for a long time now, [In VCE] and can no longer work on this, that is why I have set the permission to everyone, now anyone can edit it! Please help me out and fill this wiki up!)
Fishing and life' or (in the Google Playstore "Fishing life"), is a game created by Nexelon. Inc
It was first released on android on the 15th of April 2019, later released on the 18th of May for IOS.
As of the creation of this wiki, the game version is 0 0.62, I was not able to find any information before this version, all updates on the game are so far, only published here.
"You can fish beautiful fish, scary sharks and big whales just with simple control.
Enjoy the beautiful sunset and the moonlight that fade into the sea. 
It presents the beautiful scenes of the sunrise and moonset as time goes by.
The sound of the waves heals your heart. 
The natural ASMR waves sound brings you to the carefree sea. 
Try to put your fish in the aquarium. Even just looking at them makes you feel at ease.
Enjoy your own fishing while getting changed to different clothes.
It's ok to just get on the boat and go to the sea. 
Various boats will take you further into the sea.
Google Playstores' description of the game...
Start of the 0.0.63 issues
Edit
13 June 2019 - Update version 0.0.66:
*this update was all over the place and the records were all over the place*
(my records)
- 14th June 2019 - the release of 0.063: Added
a new map ('Sea and the statues')
a new boat (legendary boat)
added 15 new fish
added 2 special fish (also known as the summon event fish)
Treasure box compensation upward? (not too sure on what it means)
Fishing gear Max Level upward
shortly after the major updated, another update rolled out. I was not there to record the info but this is where the issues began.
(the current google play update - incorrect records)
12th June 2019 - version 0.0.66 "Fishing difficult adjustment of"
hopefully the last update regarding 0.0.63-0.0.66
Before the 0.0.63 issues
Edit
5 June 2019 - Update Version 0.0.62: "Carchalot" appears a little closer
May 18th - Released to IOS
16th April, first public release to Android.
Notes and other Important info
Edit
The game is still in early development and has loads of bugs and glitches.
Community content is available under
CC-BY-SA
unless otherwise noted.